When FTP account data is properly set up then fast blogging can begin. The calendar display in the program window is set automatically, but can be changed if you want to write about yesterday. The blog post is expected to have a head line and a text body. So just type your information into those fields.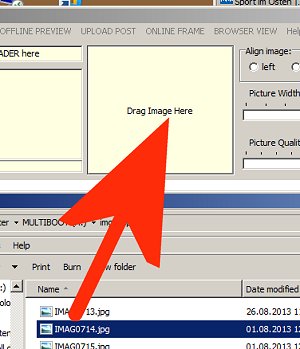 If you want to have a picture added then open your windows explorer and drag a photo (JPG) from your images library onto the blogging tool's image field. The picture is re-sized to fit in the image field.
The sliders are used to set the width and quality of the images inserted in the blog. Better quality or larger size means more data volume. Keep this in mind - according to your storage space and traffic allowance. Maybe one day you are running out of web space: You can save some data volume by lowering image quality.
Use the LEFT or RIGHT radio buttons to align the image, or check NONE if you prevent the displayed image from being published.

When everything is set you should press the SAVE LOCAL button. The latest post is put on top of your blog and all content will be displayed in the preview pane.

You can still edit the text content and image properties of the unpublished posting. You can even play around with the color scheme by selecting a different CSS file in the "Edit Design Dialog". When done press SAVE LOCAL again to see the effects.
Finally select UPLOAD POST from the main menu. The programm connects to the FTP server and uploads the updated files and images.
Now you can check your public URL to see the published content.